Simplified Guide to Creating a Content Marketing Strategy
April 22, 2020
By :topnepalad
Before we get to our simplified guide to creating a content marketing strategy for your business, let us ask you this.

What do the following types of content have in common?
They exist to provide your audience with value, relevancy and consistent information. This content is used to attract customers, retain them and drive profitable customer action for your business. So What is Content Marketing? In short, Content Marketing is a strategy based marketing action performed by a business to provide value and relevant information on a consistent basis with the goal of building a strong relationship with your customer base.

Think of content marketing like telling a story, a story about your brand. Instead of pitching your service or products to people like in a meeting, you are providing a story that the customers can connect on some emotional level. This creates a space where the people with the best stories to tell about their product can just simply start dominating.

Doesn't it feel nice to know that the businesses actually care about you as a customer? Of course, it does. That is exactly the purpose of content marketing. Once you start to provide value to your customers in a consistent way, you end up getting their attention and building loyalty towards your brand. When it's eventually time for them to purchase the services you offer, they are automatically drawn to you.

So we can specifically pinpoint the areas that are positively affected by your content marketing efforts – they are:-
Increase in sales and brand awareness
Saving on costs
Improved customer loyalty
Why is content marketing important for your business?
If you still need convincing to give content marketing a try, we have got your back. On top of expanding the reach of your business and educating your prospective clients about the services you provide, it helps build a strong connection with your customers and business. You can create a sense of community around your brand and use that awareness to boost conversions.

The landscape around content marketing is very competitive and thus you have to produce unique and relevant content to stand out. It is a very cost-effective means of marketing thus businesses of different calibers are focusing their efforts on this. It becomes very important to create a content marketing strategy and revise it at various stages to maximize your efforts. 

Do not expect short term results. Your starting goal should never be to generate sales from this. It is important to understand that this is a very give and take nature of transaction. Only when you provide the people with something of equal value can you expect something in return. Your goal at the beginning should always be to capture the attention of people and tell stories. Any sort of gains made in the early days cannot be considered as a reliable metric.

How can you start dominating the market with your content marketing strategy?
We hope we have been successful in simply making the case for you to create quality content. Now comes the real question, where do you start to create a content marketing strategy from?

A good starting point for your content strategy plan is to lay down a mission statement for your content marketing. It should outline things like who your target audience is, what content you plan to reach them with and what platforms you will use.

Set up goals for what your business will get out of these efforts. Your typical goals can include improving revenue, getting more traffic, gaining influence and authority, social media engagement, etc.

Your goals should be SMART (Specific, Measurable, Achievable, Relevant and Time-bound). That means setting up key performance indicators (KPIs) for your content marketing strategy. The KPIs will help you check off all the goals you have achieved and learn from your findings to better optimize your efforts for the future.

Keep an eye out for how much you are spending on different campaigns and track your budget throughout.

You will need to have a clear idea about who your audience is so you can create the right content to reach them. There are three actions you need to take; collect demographic data, get feedback from customers, and describe your ideal readers and customers to target them better.

The next step is to carry out a content audit to assess the usefulness of your current content and identifying the gaps where you can do better.

As you work through this process, you will start to see where your audience is present, and where you already have a successful online presence. Taking what works and expanding on it rather than starting from scratch is the best option at most times. Use various free or paid tools available online to see the main social networks or platforms where your content is being shared.

Next, we need to start thinking about the right type of content to create. Most of the successful content marketing strategies out there rely on having a central core of content being published on your own site which is then repurposed and shared on to other sites.

Blog posts should be an essential part of your content marketing mix as they still deliver strong results. Video marketing is another essential part of the type of content, as it's proven to engage your visitors to keep them on your website longer, improve lead generation, and reduce bounce rate.

Consider creating infographics to create customized graphics and memes for sharing on your social media. It's also worth thinking about podcasting as a content delivery mechanism for your business, as more than 40% of Americans now listen to podcasts. We can't help you decide on what type of content you should double down your efforts on, as it varies according to the business needs. Instead, experiment and keep optimizing your efforts from time to time.

Now that you know who you are creating the content for, what type of content you are producing it and where you are going to be publishing it, it's time to identify and allocate the resources. This includes allocating roles in your content team for purposes of creating, marketing, etc and creating a content calendar. As part of your content strategy, it's important to know exactly when you want to publish your content on each of the platforms you wish to see.

After the prep work is done, it's time to actually create the content. When you're ready to write, do a Google search to check out the top content for your topic, and see how you can improve it. This called the skyscraper technique.

You'll have to start thinking about how to reflect your brand's personality. You can choose to be super-professional, very casual, or something in between while talking to your audience. And you'll have to create a separation between showing your area of expertise without patronizing your audience.

A very important step after you have created your piece of content is to distribute it via your channels and market it. It's important to handle this step carefully because this is what will get you the results that you desire. Set up a suitable means of marketing campaigns such as email marketing, social media marketing, guest blogging, SEO, SEM, etc.

Finally, you measure the results using the KPIs you set up. Marketing should be an everchanging strategy based on the market fluctuations and attention shifts. Check to see if you are hitting your goals and see what's changed or if gaps still exist in your efforts.

Conclusion
With such ease of access to all these technological creations, anyone can go online and start creating content. With so much noise in the digital landscape, it's important to have good stories to tell. That is the only way you will get people to listen to you and what you stand for. Winning and dominating in this online world is about being consistent and keep winning in the long run.

We hope you liked our simplified guide to creating a content marketing strategy for your business. Do check out our other blogs over at Top Nepal and check out the services we offer such as Digital Marketing Nepal, Web Design Nepal, Web Development Nepal, etc.
Top 10 Content Marketing Trends to master in 2020
April 15, 2020
By :topnepalad
What are the content marketing strategy to apply in 2020? What are the content marketing trends to follow in 2020? Well, here are Top 10 trends to follow to win the race.
Every day new tactics and trends emerge but the main challenge is to select the best that you want to use as your own strategy.
There are lots of trends and tricks revolving on the internet. We have decided to go through all the trends and focus on the main topics that are best to start your engine.
What is Content Marketing?
Content Marketing is the way of creating awesome relevant content with the motive to attract more audiences and turn them into permanent customers.
There are plenty of famous brands that use the content marketing strategy to generate leads and gain sales.

What are the advantages of Content Marketing?
Content marketing allows the business to interact directly with their customers. With the help of the comment section, you can have a discussion with them which can provide a positive vibe for the business. This helps you build brand awareness and with the increase in engagement, people may buy something from you.
Comparing with traditional marketing
As time and trend change and so is marketing. The main point that makes a huge difference in traditional and digital marketing is the medium through which an audience encounters the business.
With the rise of social media, traditional marketing is not so valued by the marketers. However, it's still effective as traditional marketing is easy to understand, more memorable and printed marketing materials are more permanent. But, even with the advantage of what makes traditional loss against digital content marketing is because they are often expensive, more difficult to measure campaign, no direct interact with consumers and the list goes on.

Content Marketing Trends 2020
Content Experience
Competition for content is so fierce now, you need to grab some strategies to stand out among others. The best way to achieve success is to focus on the experience.
Yes, you need to have relevant and informative content but it is very important to focus on providing the best user experience. There are various ways to improve your content experience like:
Optimizing loading speed
Check the responsiveness of the app
Long content with short paragraphs so that its easy to read on mobile devices
Use of search options for relevant topic
Optimize voice search option
Video Content
Video content has been the go-to for some brands over some years. It is seen that video content is the second option after the blog posts. Modern consumers expect to receive video content from their preferred brands. Video keeps audiences engaged longer than any other content. Some of the platforms you can use to post your videos are YouTube, Vimeo, Snapchat, TikTok, Facebook, Instagram, and of course your own website.
Now if you are confused with video structure and option to choose you can always follow the basics like Webinars, Q&A sessions, Product demos, Behind the scenes, interview or live chat with experts.

Long Content
No matter what, the struggle to grab someone's attention is the G.O.A.T(Greatest Of All Time). No, long-form content is not dead and it never will be. This approach still works the best. Long content helps to build trust with the readers as it tends to have in-depth info on the topic. It helps to showcase your writing and have a positive impact that you are expert at what you are doing. This approach really helps to improve your SEO. But always keep in mind "QUALITY > Quantity".

Sound natural
Anything you right should sound natural. Start your content that feels more conversational. This strategy is to help your readers enjoy your content. Additionally, you can also focus on long keywords and questions as the title.

SEO
Content marketing is incomplete without SEO. If you want to stand out against your competitors you must focus on following more SEO strategies.
Stay updated with the SEO trends. Make changes to your content according to these SEO trends.
It's better to concentrate on long-tail keywords rather than popular keywords. Rather than stuffing try to concentrate on improving your content. Use more conversational content to increase the chances of showing up in featured snippets.
Use of social media platform
Social media users are growing day by day. Now the number of active social media users has reached 3.8 billion. It is very essential to stay active on social media platforms. You should share your content on social media, this allows your followers to see the content, who can share it with people who have never heard about your business. Staying active on social media helps to nurture the relationship you have with your current customers.
Focus on emerging trends and topics
Searching for emerging topics is the best way to stand out.
You can use google trends to confirm whether the keyword is growing or shrinking. You can also use it to compare two trends. Once you get the emerging topic you can create content like video, blogs to attract more viewers to be your future customers.
Podcasts
Podcasts have become very popular in recent years. We can say that it is the most popular content marketing trend in 2020.
People can listen to the podcasts while riding, walking, driving and also during sleep. They can focus on anything from entertainment to history. And nowadays industries are using the podcast for their promotion. Many businesses are creating podcasts where they discuss the current situation of the industry. Starting a podcast might be expensive at first, as it requires quality equipments. If you have a huge following then podcast can really help to boost your business.
Google Snippets
You might have noticed some answers in rectangle whenever you ask google a question. It's called google snippet. Google snippets can provide a huge amount of traffic. They provide useful and accurate at the point information, whatever people are looking for. It's a free business promotion and lead generation tactic. Always make sure to optimize your content for Google snippets wherever possible.
Data-Driven contents
Content marketing is not something to be approached haphazardly, you need to take time. Data-driven content focuses on providing specific value to a specific audience.
First, you need to adopt a data-driven mindset. More than allowing just data is not good, what you need to do is to ensure you are focusing on the right data.
Wrapping up: Hope you enjoyed our Content marketing trends for 2020, don't forget to go through our other blogs
7 Web Design Trends of 2020
April 10, 2020
By :topnepalad
Trends are ever-changing and 2020 is not an exception to this.
Design trends are the by-product of the growing technological landscape. The ability of web designers to be creative and push the limits of design is something to really behold. It is easy to get excited by all the shiny new web design trends of 2020 but choosing something among the vast variety of options can be overwhelming. An incorrect decision can cause a lot of problems not just for your business but also for your customers.
If you are unsure about how to go about adapting these changes to your website, we provide a highly coveted service for web design Nepal. We can help you adapt to these changing trends and help refresh your website for better ROI.

There are so many innovative things happening in web design right now that it gets hard to pick between them, but we hope you'll enjoy our pick.
7 Web Design Trends of 2020.

Dark mode design
Upgraded gradient designs
Immersive 3D elements
Intentional imperfections
Geometric shapes
Glowing, Luminous color schemes
Overlapping layers
Dark mode Design
Who here doesn't love dark mode. With so many people opting for dark mode in their apps, browser elements like email and even their operating systems, it was only a matter of time before people started designing websites with a darker aesthetic.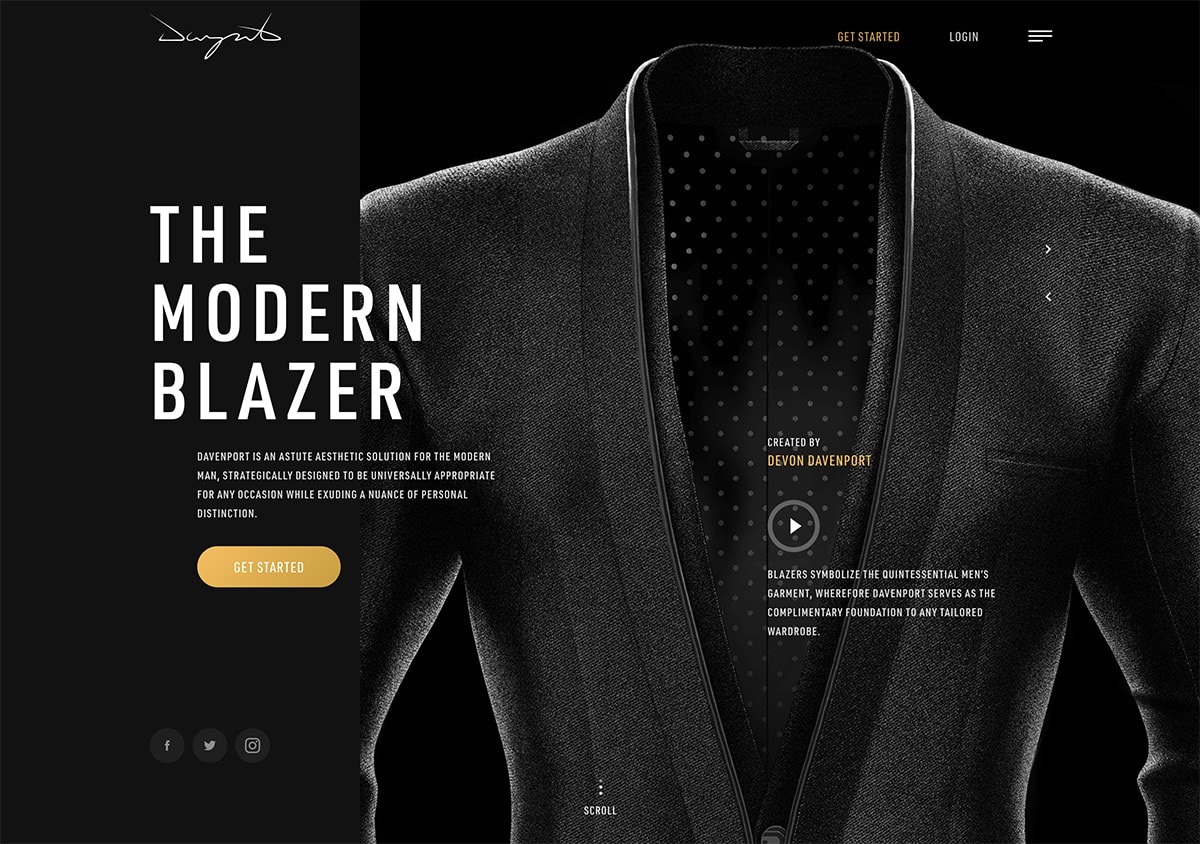 The use of dark interfaces complemented with bright accented elements and easy to read modern typography ensures that the designs are readable and visually appealing.
Upgraded gradient designs
Gradient designs are everywhere and used in a wide range from bold backgrounds with multi-color gradients to subtle gradients for texture, this trend is everywhere. Gradients look equally good on the large screen of TV or desktop and a small display of mobile devices which makes it a perfect fit for the responsive design trend.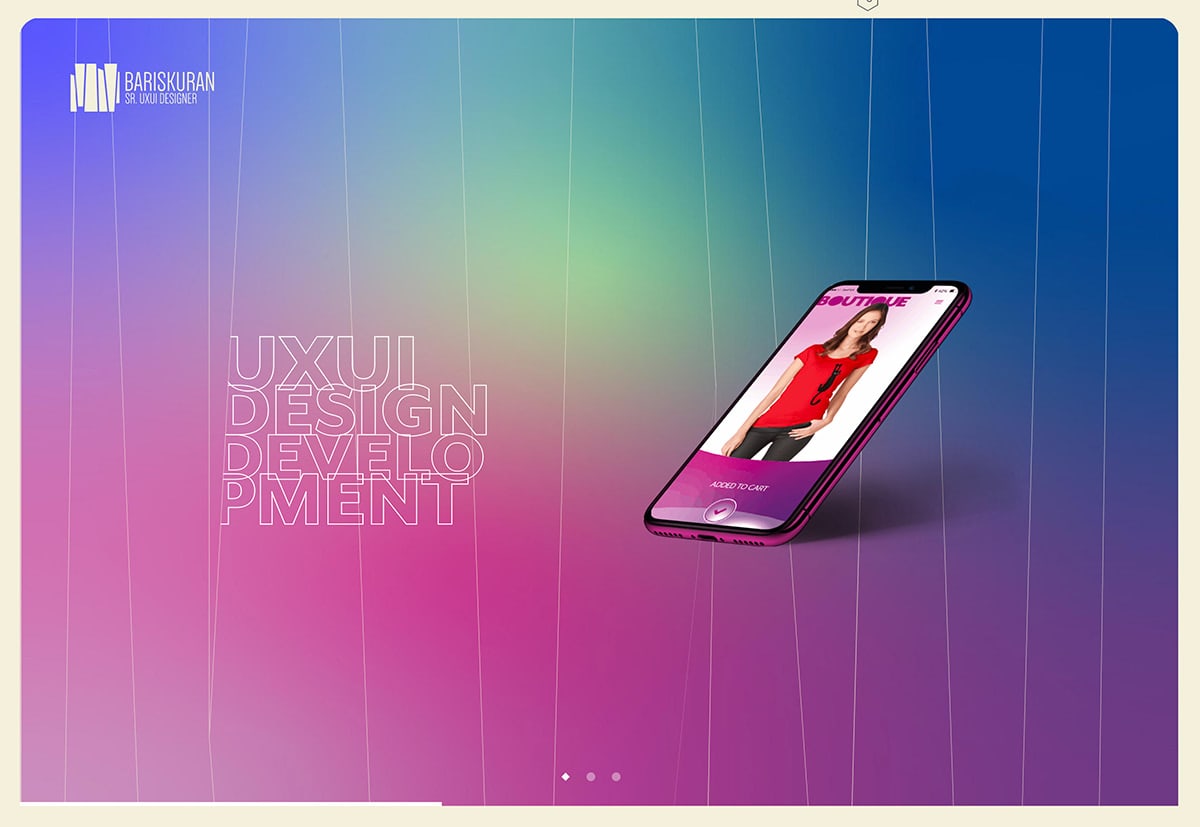 The upgraded gradient design focuses on different stylings. It can be subtle or loud, as demonstrated in the examples above, depending on the colors used.
Immersive 3D elements
3D objects and elements were only used in games and entertainment for a long time. With the rise of processing power in devices, adding 3D objects and pseudo-3D objects in websites allows us to add realism to user interactions. In 2020, we have already started seeing many 3D web designs – static, animated, or interactive.
Until VR becomes a more mainstream and cost-effective option, hyper-realistic 3D elements that's often taking up the whole screen is the best way for you to create an immersive experience for your site. We can guarantee that this will encourage the users to stay longer and decrease the bounce rate problem faced by so many websites.
Intentional imperfections
Imperfect, hand-drawn design elements inject emotion and humanity into websites, which is something that users crave after being subjected to the same old corporate designs of yesteryears. All these, add to the personal touches and aspect of humanity of the business and build trust with their customers.
Unique and stylized, hand-drawn elements can show off your brand personality and set you apart from your competitors. Gaining this competitive edge can be the make or break for our business.
Geometric shapes
Geometric shapes are the simple yet powerful resource that allows designers to create more visually appealing compositions. Such shapes are commonly used to create visual borders between different sections.

But designers started to look for creative ways to use geometric shapes in their designs. Some examples include using soft geometric shapes to create a futuristic look, sharp lines and edges to create a more brutal and rough look, etc. Using this with other trends like gradients and bold typography helped create new and innovative designs that pushed some businesses to the forefront of the competitive market.
Glowing, Luminous color schemes
We are witnessing bold color pairings, used strategically to make web designs jump off the screen. Web design has become more courageous and daring, using glow-in-the-dark neons and highly saturated colors in combination with darker, muted shades to give the designs a more luminous feel.
Duotone web designs in particular is making this trend shine even more. Duotone keeps reinventing itself time and again to maintain its rightful place at the forefront of design. This latest iteration that we are seeing is the boldest yet, relying on futuristic, neon pops of color and stark color opposites to make visuals create a lasting impression on their audience's minds.
With web design trends like extreme minimalistic designs and dark mode designs on the rise, glowing and luminous colors can really create an impact when used in unison with them.
Overlapping layers
Layers, layers, and nothing but more layers. Overlapping layers and elements don't necessarily create a 3D effect, but they do aid in adding a sense of depth and dimension to projects that would have otherwise seemed bland and vanilla.

You don't have to limit yourself to adding layers on graphics alone, it can be equally effective for texts and photos. These effects give the design a lightweight feel as if the elements are floating over each other thus helping to create a distinction among the thousands of classic flat designs.
Overlapping is a nice way to organize a lot of different element and content types in a unified manner. The trickiest part for designers might be ensuring that these overlapping looks flow through the scroll of the design and create a seamless effect.
Conclusion
All of the above designs have a lot in common; the most common being their embrace of futurism. We have provided you with the guidelines and what to expect, but what you do with this information is completely up to you. You can opt for interactive 3D elements or layer elements to create a pseudo 3D effect, go with bright colors and contrasting gradients or opt for a darker aesthetic.

Whether you're just starting out on your designing journey or are an expert yourself, we hope you've gained some valuable insight from our breakdown of 7 web design trends of 2020. We here, at Top Nepal, are here to assist you in this journey to build an online presence for your business with our services for web design Nepal.